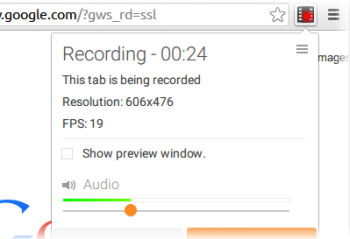 Google Chrome has become the best browser to use on a computer thanks to the numerous developers who create more and more particular and more and more powerful extensions.
For example, recently, we talked about the plugin to copy and paste text into images, which would be impossible without an OCR program.
In this case instead we see an extension that allows
record everything you see with Chrome in a video
, plus the possibility of
include webcam video of yourself
. It therefore becomes very easy not only
record live video from websites
streaming, but also
record games of online video games
commenting on them in first person, the so-called "
gameplay
"
ALSO READ:
Record audio and sounds to PC from microphone, web or other sources
1) The extension is not new, but has recently been updated with many more features.
It is
Screencastify
, free for Chrome that doesn't even require you to sign up for an account. After installing the Chrome extension and granting access, its icon will appear next to the address bar in Chrome. By tapping the button you can immediately choose to record the desktop, record just a card or from the webcam.
Regardless of what you choose, you can record computer sounds or sounds as audio
what we say into the microphone
, if you want to comment on what you are doing. If you are recording from the microphone input, you can move the volume slider to balance it correctly. The image of ourselves taken by the webcam can be positioned in a corner, as happens in the professional videos of the Youtubers.
One of the main differences between desktop enrollment and Chrome tab enrollment is that you can't use the former
tools for drawing on the video
. If, on the other hand, you register a website from an open tab, you can also use a pen to show the viewer where to look, making everything very interactive.
Screencastify is free with a limitation on the length of the videos which cannot be longer than 10 minutes. To remove this limitation and also have the possibility to save videos in Google Drive, you have to pay the one-time 20 Euro program.
2) If you want a similar but free solution, there is also
Loom per Chrome
, a free audio and video recorder that can be used by an extension button and that saves movies online and that also supports voice recording from the microphone.
3) Another extension to record audio and video from Chrome is
HYFY Screen Recorder
which requires you to register an account and allows you to register 4 minutes in the free version.
4)
Hippo Video
can record video by choosing the resolution, from 360p to 1080p. You can customize the recorded videos by changing the aspect ratio, the resolution, the size of the webcam (which can be added to the video), highlighter, blurring certain parts of the screen and more. The free plan allows you to record 3 videos per month.
5)
Nimbuss
is a video recorder for Chrome that also allows you to add a logo above and that includes editing tools and 4K video resolution, all for free. The main menu is customizable, so you can also add / remove options. You can configure hotkeys to create shortcuts for various functions. Note that Nimbus also offers other products such as a web clipper and a note-taking app. All three apps share a common plan. So it's best if you go through what they offer.
6)
Voice recorder for Chrome
is an extension that allows you to record any audio source on your computer, including sounds and music that you can hear on the internet.
7)
Chrome Audio Capture
is a Chrome extension that allows you to record the audio of any card, even when listening to music streaming from the internet. You can save the audio recording as an mp3 file.
8)
Aperture - Simple Screen Video Recorder
is a simple and free video-only recorder for Chrome (no audio), which saves videos in MP4 or WebM format. The video recorder can record in normal, high or high quality with much larger size.
9)
Screenity
allows you to record your PC screen from Chrome by creating annotated videos and voice recorded from the microphone, ideal for school and project presentation.
ALSO READ:
Record audio from the internet with the Windows music recorder