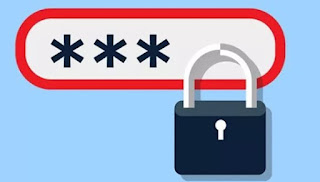 The number one rule when signing up to online sites is to use a password that is different from the others and difficult to guess, in order to avoid hacker attacks.
Unfortunately such complex passwords can be easily forgotten, forcing us to use simpler passwords.
Even if we have an iron memory, it is advisable to get help from password managers and some online services that can store passwords for us, encrypting them and protecting them with the best technologies.
Let's see in this guide how to save the access passwords to websites in a safe and secure way; we will show you both the password managers integrated within web browsers (and synchronizable with an online account), and the online services that can manage passwords through browser extensions and apps for smartphones and tablets.
Finally, we will also show you a completely offline password manager, so you can keep your passwords in a safe place.
ALSO READ:
Check if the accounts with email and password have been stolen
1)
Google Chrome
On Google Chrome it is possible to save passwords with the integrated manager, which will also synchronize them on the added Google account.
In order to make the most of it, we first log in with the Google account by clicking on the icon
Profile
at the top right or by taking us to the menu with the three dots at the top and then clicking on
Settings
.
From both menus we will access the data synchronization screen: all we have to do is click on
Enable synchronization
->
Attiva
and enter the login credentials for the Google account to be used.
Once logged in, make sure that the Synchronize all item is active, so as not to lose even a password.
Now that the synchronization is active, we will need to make sure that saving passwords is active on the browser in use.
To do this, click on the three dots at the top right, then go to the menu
Settings
->
Password
and we activate the voice
Ask to save passwords
.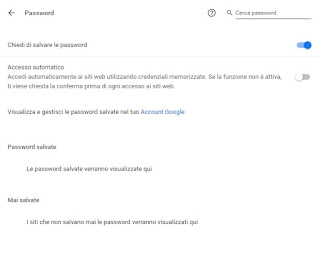 From now on, the credentials we will enter to access a site will be "captured" by the browser and saved in this section.
At the next access to the site, a small pop-up will appear at the top right, with which to enter the saved credentials.
If we want to obtain automatic access to sites, so as not to have to confirm the insertion of credentials every time, it is sufficient to also activate the voice
Automatic login
, seen in the previous screen.
Chrome uses encryption to protect passwords and also integrates a secure password generator that automatically stores in your account (which you don't need to remember by heart).
Chrome then allows you to access and see the passwords stored in Chrome from any PC and smartphone, even without using Chrome.
2)
Mozilla Firefox
Mozilla Firefox, another web browser widely used on PCs, also allows you to save passwords in its management system and synchronize them via a free Web account.
First of all we create an account for the synchronization of the access data in Firefox; to do this we open the browser, click on the three horizontal lines at the top right, let's go to the menu
options
->
Account Firefox
and click
Log in
.
A new window will open, where you can enter the login credentials for the Firefox account to be used for synchronization; if we don't have one, we can create it on the fly by clicking
Create an account
.
After activating the Firefox account, let's go to the menu
options
->
Privacy and Security
and scroll down the page until you find the item
Ask if you want to save your website login credentials
.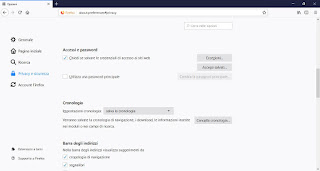 We activate the voice to save the passwords for accessing websites; to increase the security of the browser we can also activate the voice
Use a master password
, so you can protect your passwords with a
Master password
, the only one to keep in mind.
From now on, the browser will save the access credentials in its internal archive and, in case of future access to the same site, will allow them to be automatically entered in the required fields.
ALSO READ:
Come salvare password in Chrome, Firefox, Edge e Safari
3)
BitWarden (online)
If, on the other hand, we are looking for an online password management system
the best free online program
it is without a doubt
BitWarden
.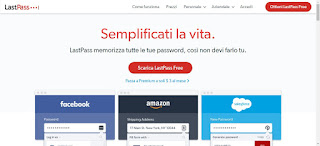 BitWarden is an extension available for all major browsers capable of synchronizing passwords saved online and making them available on any PC or browser in which it is installed. The specific extensions for the various browsers can be found below:
- Mozilla Firefox
- Google Chrome
- Safari
- Microsoft Edge
If instead we want to use BitWarden from mobile, below we can find the links for Android and iOS devices.
- BitWarden per Android
- BitWarden per iPhone e iPad
The only two requirements for using Bitwarden is to use
Master password
forte and use one of the browsers mentioned above.
First of all let's get a free Bitwarden account.
After entering an email address and password, we will be able to use them within the various extensions or in the apps indicated above. When we enter credentials in the browser, Bitwarden will intervene with a pop-up window at the top right, asking to save the credentials in its online archive. In a few clicks we will be able to save any credential and, when accessing from another PC, from another browser or from another device, it is sufficient to wait for the warning window to appear, with which to automatically fill in the access fields.
Bitwarden is undoubtedly the simplest and most recommended (free) solution then for
store all passwords together
, in a secure and centralized way.
There are also others of online password managers such as
1Password
, much celebrated and of high quality like Bitwarden.
NOTA: Essendo Lastpass diventato a pagamento, abbiamo visto le alternative a Lastpass, tra cui appunto il gratuito
BitWarden
, which has all the same features, applications and extensions and works in a similar way without the limitations. Those who used to use LastPass can easily migrate all passwords stored on BitWarden.
4)
KeePass (offline)
If we don't want to save passwords online, we can always rely on an offline archive manager like
KeePass
,
the best program
of this type.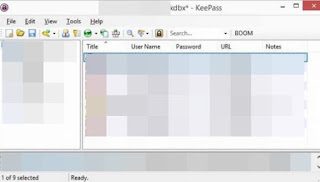 This application stores all the access data and passwords saved in an encrypted file, accessible only from this program and only after having entered the chosen Master password.
If you use multiple computers, you can use a program such as Dropbox or Google Drive to synchronize passwords on computers so that they can be stored online.
All Keepass operation is based on the
Master Password, the only one to remember, which must be very strong and difficult to discover
; therefore alphanumeric, with upper and lower case and with some symbols.
Others have the same level of protection
programs to save passwords
come 1Password.
To learn more about the sites and other password managers available, we can read the following guide.
READ ALSO ->
How to create and manage web account passwords