Waze adds a new feature that allows you to choose your route from the web version of the service on PC / Mac before continuing on the smartphone. The application generates QR Codes for this, which act as direct links.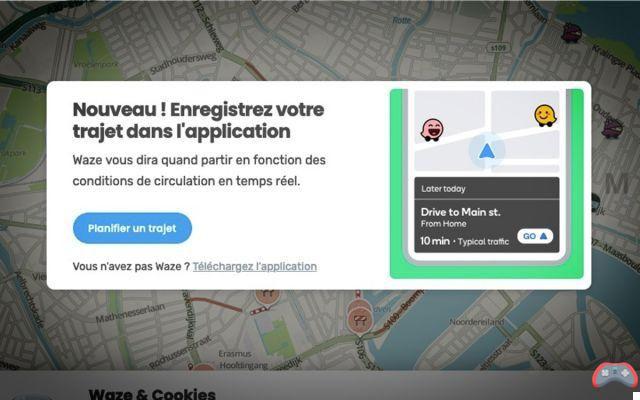 Waze provides a very practical new feature: you can generate QR Codes on the web map available on PC/Mac. As on WhatsApp, these QR Codes allow you to pair your web session with your smartphone application. What makes possible the immediate continuation of your journey on the smartphone application.
Waze web and smartphone app can now be paired like WhatsApp
All you have to do is connect to the Waze Live map (http://www.waze.com/fr/livemap), click on the button Connect, then scan the QR Code generated by the page in the photo application of your smartphone (or if that does not work in a QR Code reader application). You can then choose a route on your computer. To send it to your smartphone, just click on the button Save in app from the webpage. A notification will then appear on your smartphone: tap it to start browsing immediately.
The function has practical options. For example, if you change "Leave now" to a date in the future, a notification will appear on your smartphone when you leave. If you choose an arrival time instead, Waze will tell you the ideal time to leave taking into account the traffic conditions on the route. Similarly, it is possible to change the route on the fly (just click on Save in app at each change.
Waze specifies that it is possible to plan different routes over a week. Everyone can find their account in this novelty. Planning a road trip, for example, becomes easier: you can define all your routes in advance and let push notifications guide you to know when to leave. It also becomes possible to manage routes remotely, for example telling a contact (whose smartphone is synchronized) "go to this address" and immediately display the route on the device.
Also read: Waze – an update allows you to turn your car icon into a Batmobile
Synchronization of the trip between Waze web and the Android and iOS app is available now. It is not a priori necessary to have the latest version of the application, although it is advisable, as always, to update it if necessary. What do you think of this feature? Share your opinion in the comments.