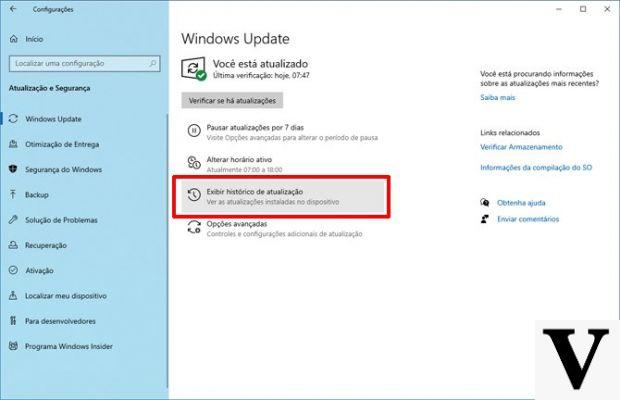 That Microsoft Windows 10 updates sometimes they create more problems than they solve is now known to practically everyone. It is also well known that such problems can be quite serious. The average user, however, has great difficulty understanding which (or which) of the many downloaded updates is creating a certain problem they are experiencing.
The site comes to the aid of the average user Windows Latest, focused on Microsoft Windows and its many updates. Windows Latest has been collecting reports from users around the web and has found that among the most recent updates to Microsoft's operating system, there are some that are more problematic than others. These are updates that, after installation, on average give problems to everyone and, consequently, many could also uninstall in order to solve the problems that the updates have created. The worst updates found by Windows Latest are three: KB4535996, KB4540673 e KB4551762.
Windows 10: KB4535996 and KB4540673 update issues
- Windows 10 updates KB4535996 and KB4540673 are two minor updates, which introduce small new features and fix some previous bugs. The two updates are connected to each other: KB4535996 is available since February 27 and not all users have yet installed it, while KB4540673 brings inside some of the innovations introduced by KB4535996. As a result almost everyone has either one or the other installed and almost everyone has the same problems: much slower PC startup and various and inexplicable slowdowns during normal activities.
Windows 10: KB4551762 update issues
Unlike KB4535996 and KB4540673, update KB4551762 it is a security update and therefore it is important. Fixes a serious vulnerability in the Server Message Block (SMBv3) protocol on Windows 10 versions 1903 and 1909. By exploiting this vulnerability, a hacker could take control of our PC or a server. But many users have reported that after installing the update KB4551762 their operating system has become highly unstable, with frequent crashes and blue screens, in addition to the usual slowdown of the computer.
Windows 10: how to uninstall updates
In light of this information, any user who is experiencing one or more of the problems described above is free to choose whether to wait for Microsoft to solve them with a further update (crossing fingers that everything goes well), or uninstall one or all of them. To uninstall Windows updates, go to Settings> Update & Security> Windows Update> View update history> Uninstall updates. Here we will find the list of installed updates and we can choose which to uninstall.
What are the Windows 10 updates causing problems