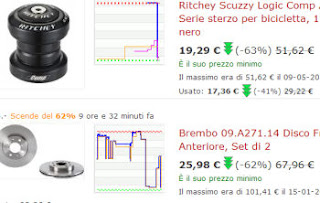 I almost shouldn't write these things to her because then someone could steal unique buying opportunities at ridiculously low prices, but for blog's sake I can't really resist sharing this information.
The Amazon online store is certainly the largest in the world
and, as such, even in the country version, it contains thousands of products for sale, more than any other real department store.
There are shoes, clothing, computers, telephones, electronics, books, video games, appliances, kitchen products, children's games, and so much more. Furthermore, Amazon shipping is free (if shipped by Amazon and not by third parties) and guaranteed in the sense that if it does not arrive or if a damaged item arrives, you can request a return or refund without too many bureaucratic rounds and without too many disputes.
The easiest way to use Amazon is always to search for products by name or scroll through the lists of the best sellers and most popular, but if you are not looking for something specific, you can instead start from
sales showcase, buying with even very high discounts
.
ALSO READ:
Ways to save on Amazon and buy at the lowest prices on the internet
Discounts on Amazon
are, officially, on the web page of
Outlet Amazon
. You can then click on a product category to search for what you want to buy and always find a discount that can be 20% or even 40% depending on the case. There are discounts on video games, computers and computer accessories, cell phones, appliances and electronic products, books, shoes and bags, sportswear, musical instruments, games, watches, home and kitchen accessories, and auto accessories.
To find discounts on Amazon you can also look at the
IN SALE
, a showcase where instead the products are available with one
temporary discount
. While the Outlet is a stable section of the shop, the products included on the Offers page may only be there today, to disappear tomorrow or return at full price. It is therefore about
daily deals or even lightning deals
with a duration of 4 hours to be grasped, where the search is not done so much by type of products but by the discounted amount.
Still Amazon offers us the opportunity to find the maximum discounts on products with a kind of
showcase of occasions
(similar to that of Ikea) where i
returned products, imperfect
or that have suffered damage in the warehouse. Page
Amazon Warehouse deals
therefore allows you to buy items described as
used
, with some imperfections that can be read on the description page.
In addition to the Warehouse section, Amazon has opened a new section of
ooffers dedicated to refurbished or remanufactured electronic and IT products
. For us enthusiasts it is therefore about
a golden opportunity to find computers, smartphones and electronic devices at discounted prices up to 40%
. These products are not like those of the Warehouse Deals, used, but renewed and regenerated, that is, put back in place and checked by the seller.
The "Certified Refurbished" product page is called
Amazon Renewed
and is mostly dedicated to electronic products. While in another article we had tried to understand if it is worth buying refurbished, we had noticed how an important discriminant in this choice is in the reliability of the seller. In the case of Amazon Renewed this problem is completely solved, as every product sold in this section of the store is
Refurbished certified by qualified suppliers, tested and sold as new with 1 year warranty
. You can therefore buy a new iPhone for 20 euros less than normal, a new computer with a 20% discount, or a Kindle Paperwhite for 100 euros instead of 130.
But how can you do it if we want to buy a particular object, to know if and when it will drop in price or will be on offer with a strong discount. You can consult the offers page every day, but it would become a tedious job and also, most likely, bankruptcy.
Fortunately there is a site that helps us in this, called
camelcamelcamel
. In Camelcamelcamel it is possible
look for products that have dropped the most in price
today or in the week and you can search anything for
follow price changes and be warned
, via email or via Twitter, of a possible price drop.
The site also allows you to install a
extension for Chrome, Safari and Firefox
call
Camelizer
which adds one
price chart on each Amazon product page
and therefore allows you to see its variation,
the minimum and maximum price
. CamelCamelCamel is useful not only for finding discounts, but also for seeing how the price varies by trying to predict if it can fall or not.
ALSO READ:
Amazon extensions to track prices and buy better (Chrome and Firefox)
If that's still not enough, let's see the pearl that really allows you to extract from the huge Amazon database
the products with the strongest discounts and those that have fallen in price the most today
.
It is
Keepa
, which works on various stores including that of the country and which lists, on its homepage, the list of products that today have the best discount, in percentage. In the list you can find objects a
minimum price discounted up to 90%
enough to convince us to buy anything even if we don't need it. It is also possible to receive these discounts via email, scroll through the various discounted products by categories or search for something in particular, to find, for example, the most discounted sweatshirt or laptop in the online store.
Going to Keepa every day and seeing what's on sale at a bargain price can become a very fun as well as productive saving game.
ALSO READ:
App to compare prices and save on every purchase or expense