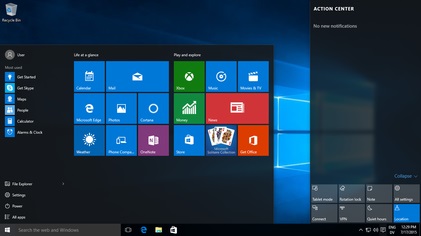 Also this year the update 20H1 on Windows 10 it will arrive in May and not in April, as originally planned. Despite the postponement of a month, which turns this update into a "May update", it will still be an update full of news.
Among the many there will also be one, relating to security and login, which to many may seem like a dip in the past: on Windows 10, in fact, the PIN. Yes, the good old PINs that seemed like a memory by now and that, instead, according to Microsoft are the key to make Windows 10 a "passwordless" operating system, ie without a password. It is not at all clear what Microsoft intends to do, but what is certain is that the Redmond company is convinced that PIN authentication, and not by password, is more effective and more secure. Will he be right?
Windows 10 without password: what it will look like
Microsoft has long been pushing for access without password to Microsoft accounts on devices with Windows 10. This type of login will initially be optional: it can be activated via Settings> Accounts> Login Options, where we will find a new option "Make your device without a password". Microsoft promises that all of this will improve security and provide a smoother login experience: "This will make logging into the device more secure by switching all Microsoft accounts on the device to the new multi-factor authentication, with Windows Hello Face, fingerprint or PIN ". That the PIN is more convenient than a complex password is easy to guess, that it is more secure is not. Security will probably be guaranteed by the second authentication factor: fingerprint or face unlock.
Windwos 10 20H1: the other news
The beginning of the transformation of Windows 10 into a "passwordless" operating system is just one of the expected news with the May Update 2020. Among others, there should be one that will make happy those who have a computer that is not very recent and fast: a new disk file indexing algorithm, lighter than the previous one. And speaking of performance, those of video playback should also improve. Revolution in sight, however, for Cortana: the digital assistant is preparing to become a separate app, focused on artificial intelligence and the needs of business customers.
Windows 10, goodbye to the password: it will be replaced by a PIN