Windows 10 will offer something interesting in its next update: the possibility of changing the refresh rate of the OS more easily. Enough to take full advantage of your brand new 144 Hz screen.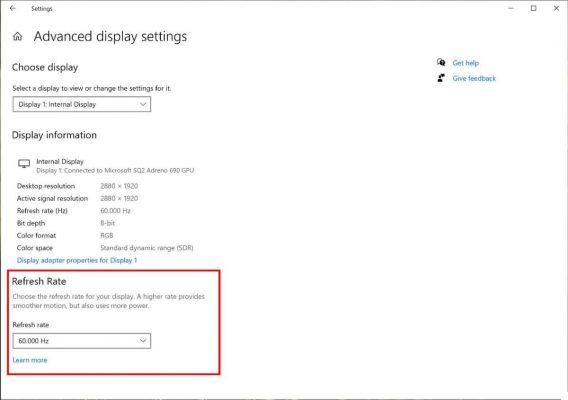 The current trend for screens is to increase their refresh rate. No more 60 Hz screens, since manufacturers are now betting on 120 Hz, 144 Hz, 240 Hz or even 300 Hz. This makes the display more fluid and displays many more frames per second in game if you have the necessary equipment. But on Windows 10, changing this refresh rate could be complicated.
A new preview version of Windows 10, Build 20236, allows greatly simplify the operation to let the user choose its refresh rate on the desktop. To fix it, you still have to dig into the options, but there's nothing really rocket science.
Read also – Windows 7, it's over: how to migrate to Windows 10 for free
You have to go to the P menuarameters, easily found since it is the small cogwheel in the Start menu of Windows 10. Then, click on System, the first icon at the top left of the menu. Once done, select the submenu Displays and Signage (already active by default) then go to the advanced display settings at the bottom. A new window will then appear with a tab offering to change the refresh rate. Be careful though, you have to be equipped to take advantage of it, with a compatible screen and above all a graphics card that can support it.
Greater visual comfort when using Windows 10
At the moment, this new feature is in testing, but it could arrive very soon in an update. What bring additional comfort in the use of Windows 10. Microsoft also brings other new features to its operating system, including the display of recent searches using the dedicated bar in the start menu. Only recent applications were previously shown. Of course, it will be possible disable this option if you wish.
This new version also brings its share of bug fixes and other small improvements that are almost invisible to the user who does not pay attention to them.
Source : Slashgear