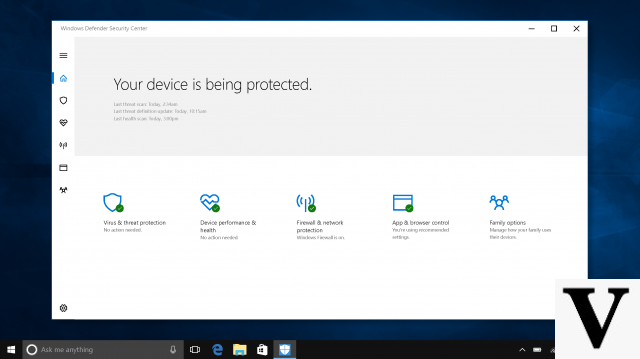 Code name Windows 10 Redstone 4, but the general public will know how Windows 10 Spring Creators Update. We are talking about the next update of Microsoft's operating system which will be available for all users from April 2018 and which will bring with it several new features.
The Redmond company has accustomed us to two big updates every year: in 2017 in April the Creators Update was released and in October-November the Fall Creators Update. And in 2018 it will be the same. In April we will have Spring Creators Update and in October-November it will be the turn of Redstone 5 (provisional name, for the official one it will be necessary to wait a little longer). Windows 10 Spring Creators Update will be available for free to all users who have an original version of the operating system. Here are the most interesting news.
Security and stability updates
Like all updates that are released for any operating system, too Windows 10 Spring Creators Update it will bring improvements from the point of view of IT security and stability. Windows Defender, the antivirus present by default on all Windows 10 computers, will be enhanced and made more effective in defending against ransomware attacks.
Timeline arrives
The coolest feature featured in Windows 10 Spring Creators Update è Timeline. This is a feature that will allow users to continue working on different devices on the same applications and at the same time they stopped. With an example it is easier to understand how Timeline works. If we are working on a Word file in Office and we have to go out to pick up the children from work, on the bus it will be possible to continue working on the same file via the Office application. Similarly, if we start work at home on Office with our personal computer, it will be possible to continue it from where we left off with the work computer. In addition to applications developed by Microsoft, Third party apps available for Android and iOS will also be supported.
Another step towards Fluent Design
With upgrade to Windows 10 Spring Creators Update another step towards the Fluent Design, the new graphical interface that the Redmond company has been working on for a couple of months. The biggest changes will be in the transparency of the cards and in the colors adopted.
Share files
Sharing files will be easier with the Windows 10 Spring Creators Update. The "Share" option has been added to the Applications tab, which allows you to send files and documents to nearby devices. Everything happens through the Wi-Fi network or Bluetooth. An easy way to exchange files with your desk colleague without having to send emails that just fill your inbox.
All-in su Edge
Edge, the browser that replaced Internet Explorer with the launch of Windows 10, failed to achieve the desired success. But Microsoft doesn't seem to want to give up on the idea of ​​having a browser that is used by as many people as possible. With the spring update of Windows 10 it will be added a system for automatic filling of forms, the favorites menu will be completely "restructured" and users will be given the possibility to automatically mute the audio of some websites.
Furthermore, Edge will support some Progressive web apps, applications present in the Microsoft Store and which do not need to be installed in order to use them.
Windows 10 Spring Creators Update, everything you need to know