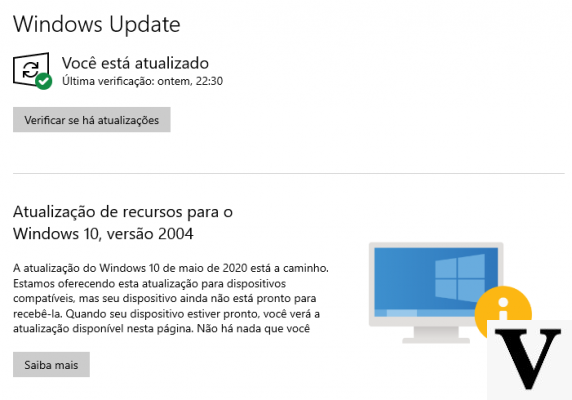 The release of theWindows 10 May Update it has been blocked, at least on some computers. This is what the US website The Verge reports, which in the last few hours has collected various testimonies from users who have found themselves unable to download and install the latest operating system update. In the Windows Update page A message has appeared warning that the PC is not yet ready to receive the update. The reasons for this message are unclear, but it appears to be related to possible compatibility issues with PC components.
Il May Update 2020 was released by Microsoft on May 27th and the release is continuing all over the world these days. But with some problems. The Redmond company has published a list with all the bugs and malfunctions reported by users so far and is investigating to try to fix them as soon as possible. Problems that could be precisely the cause of the update block on some PCs.
Windows 10, the computer is not ready to upgrade
The May 2020 update of Windows 10 will be compatible with all PCs that already now have Microsoft's operating system. But the release could be staggered over time to make it compatible with older devices as well. This is the meaning of the message that appears inside Windows Update and that has popped up on many computers in the last few hours.
For some users the update was just blocked in order to do not cause bugs or malfunctions. This isn't the first time Microsoft has released updates that go to compromise the use of some function or some program. And to prevent any problems (which are becoming numerous in these hours), he decided to block the update and release it only when the PC is ready.
For those who do not want to wait there is also the possibility to force the update, but we do not recommend doing so because you could find yourself with annoying PC problems.
Windows 10 update blocked: what's going on