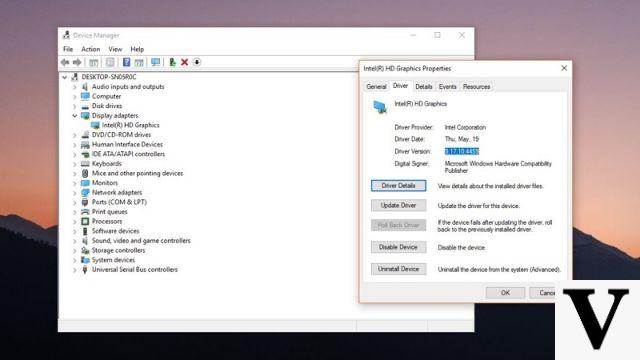 More problems for Windows 10 after the October Update, definitely one of the most unfortunate operating system updates from Microsoft in recent years: this time some drivers for Intel components are not working (again, it's a different problem from the one already encountered in recent weeks) and some iCloud functionality.
If in the past few days it was the management of network disks (unable to access them, despite the user having not changed any settings) and ATI's video cards that caused problems, in this round the headaches are caused by the Intel drivers. There Windows 1809 release 10, therefore, it is not yet available for all PCs. Microsoft's operating system update 1809 has been postponed and "withdrawn" several times, only to be published again and again withdrawn, as in the case of these latest bugs. It's called the October Update, but it actually came out in November 2018 and it was probably better to wait a little longer.
Intel drivers incompatible with Windows 10 after update
The last bug with the Intel drivers concerns the graphics section: in some configurations with the audio speakers integrated into the display, if the Intel graphics drivers 24.20.100.6344 or 24.20.100.6345 are installed on the PC, the audio does not work. Microsoft explains the problem as follows: "Intel inadvertently released two versions of its graphics driver (versions 24.20.100.6344 and 24.20.100.6345) to OEMs that accidentally accessed unsupported features in Windows. After upgrading to Windows 10, version 1809, audio playback from a monitor or television connected to your PC via HDMI, USB-C, or DisplayPort may not work properly on devices equipped with these drivers. (This is a different problem than other problems with Intel. " Consequentially Microsoft has disabled the update for PCs on which one of the two Intel drivers is installed just mentioned.
iCloud not accessible on Windows 10 after update
But it is not the only bug, there is also what concerns iCloud, Apple's remote storage services: those who have installed the version 7.7.0.27 of iCloud for Windows report numerous errors after the update to Win 10 1809, such as the difficulty of updating and synchronizing shared albums, while those who try to install iCloud after updating Windows fail precisely because a message blocks the installation informing the user of the incompatibility between this version of iCloud and this version of Windows 10. As a result, Microsoft had to block the update for these users as well.
And these are just the latest mistakes, before there were others. For example, incompatibility with Trend Micro OfficeScan and Worry-Free Business Security software or certain AMD GPUs. Even earlier (and even more serious) immediately after the launch of the 1809 update, some users reported a big defect in OnDrive that led to the accidental deletion of personal files such as documents, photos and music.
Windows 10 update, new Intel and iCloud driver issues