Comparison test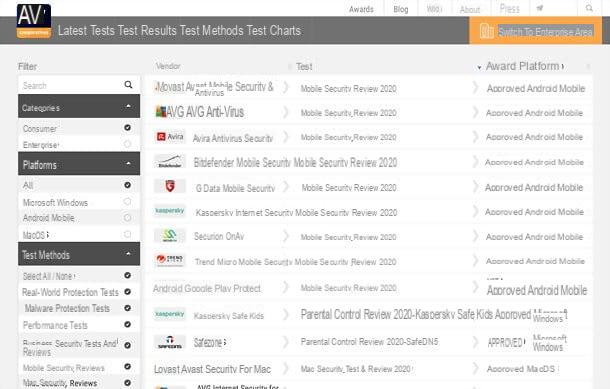 As anticipated at the beginning, to try to identify what the best antivirus for Windows 10 currently present on the square it is practically essential to rely on the aforementioned comparison test which, as easily understood, do nothing but go and compare the most important antivirus engines by analyzing several aspects. You ask me which ones? I'll explain it to you right away.
First of all, the effectiveness of the real-time protection, i.e. the number of threats they are capable of blocking when active on the PC. The false positives, i.e. the reports of alleged cyber threats that have turned out to be unfounded, after which the impact that the antivirus have on the computer performance. Considering all these "variables", the best antivirus is therefore the one that manages to guarantee the highest degree of protection without weighing heavily on system performance and without reporting an excessive number of false positives.
Having said that, the question, at this point, arises quite spontaneously: what are the tests for comparing the antivirus to which it is possible to refer? The answer is soon given: AV-Comparatives e AV-Test.
AV-Comparatives is an independent Austrian company that every month publishes a comparison regarding the degree of effectiveness of the main antivirus on the market which can be consulted directly online, through this page.
The table provides the ranking of antivirus based on various parameters, which can be selected from the left sidebar: personally, I suggest you focus your attention on Real-World Protection Tests (ie tests relating to the performance of various "on-road" antivirus) e Performance Tests (to know the impact of antivirus on PC performance).
To view the comparisons made by AV-Test, the other reference site I mentioned and that you can use for a further comparison, you must visit this page. If you prefer to sort the software according to their degree of effectiveness, click on the item Protection which is at the top, mind if you prefer to view a ranking of the fastest and least expensive antivirus you have to click on Performance. Do you want to consult the ranking of antivirus based on false positives? Then click on Usability and it's done.
If, on the other hand, you wish to receive more details about the operation of a specific antivirus and the results achieved by it, you must click on its name in the list on the left.
Best Antivirus
Once we have viewed the reports of the aforementioned Internet sites that compare the performance of antivirus, we can finally go in search of the best antivirus for Windows 10 by reviewing those that, taking into account the various factors already indicated, I believe it is appropriate to take into account consideration. Find them below. There are both free and paid ones (and in almost all cases it is possible to download a trial version at no cost). The choice is yours!
Norton 360 5 Deluxe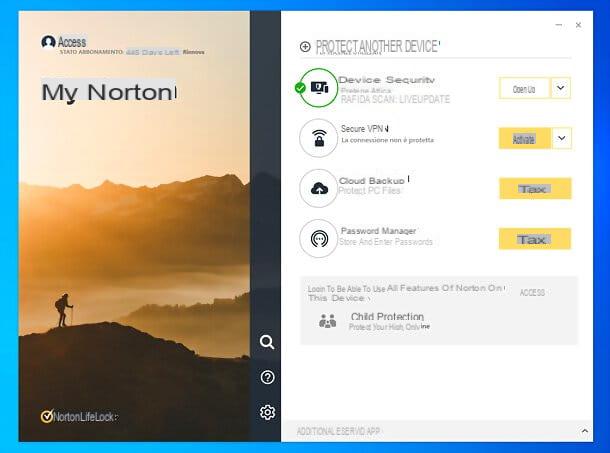 Among the best antivirus for Windows 10 it certainly cannot be missing Norton 360 5 Deluxe: the famous IT security suite developed by NortonLifeLock.
Norton 360 5 Deluxe includes everything you need to protect your digital assets: real-time protection against viruses, malware, phishing and ransomware; Secure VPN to surf online anonymously and securely even on public Wi-Fi networks; parental control to manage the online activities of their children; password manager to keep passwords and credit card data; the function SafeCam to prevent unauthorized access to the webcam e 50GB of cloud space, to have a backup of your online data to restore in any situation.
In addition to Windows 10, Norton 360 5 Deluxe is also available for other editions of Windows, for macOS, for Android devices and for iOS / iPadOS (in this case, however, given the lack of need to use anti-malware on systems mobile device of Apple, serves only to protect against unsafe public Wi-Fi networks, malicious sites and provides warnings when it is necessary to update the operating system of the device). It can be used on up to 5 devices simultaneously and has a license valid for 12 or 24 months, depending on the version chosen, with automatic renewal (which can be deactivated at any time).
To purchase Norton 360 5 Deluxe, all you have to do is connect to the official website of the program, choose the license of 1 year or that of 2 years and click on the button first Subscribe e poi quello Proceed to secure order. On the next page, fill out the module which is proposed to you with all the required data (email address, password, etc.) and press the button Create account, to go ahead and complete your purchase. Alternatively, if you already have a Norton account, you can log in by selecting the tab Log in and entering your login data.
Once the purchase is complete, connected to the Norton site, make theaccesso to your account (if necessary) and click the button first Install now e poi quello Accept and download related to protection for your computer.
Alternatively, I'll let you know the availability of Norton 360 5 Deluxe with a 15 month license (without automatic renewal) on Amazon. By purchasing this version of the antivirus, you will receive by email a code to use to download the program from this page.
Vedi offers your Amazon
When the download is complete, regardless of the version of Norton 360 5 Deluxe you downloaded, open the .exe file obtained and wait for all the data necessary for the software to function from the Internet (it may take a few minutes).
At the end of this procedure, click on the buttons Yes e Install, choose whether to join the program Norton Community Watch and wait for the installation process to finish. Upon first launch, Norton 360 5 Deluxe will automatically download and install all available updates.
Now, to start a quick system scan, click on the entry Quick scan present in the Norton 360 5 Deluxe main window and waits for the result of the analysis. If, on the other hand, you want to perform a more advanced scan, click on arrow che si trova accanto to the pulsating apri, access the scan selection menu and choose from Full system scan, Custom scan, Norton Power Eraser (to eliminate threats that are difficult to detect), Norton Insight (to scan and locate files to scan) or Diagnostic report (which allows you to view key information about the device).
In addition to starting a scan, from the Norton 360 5 Deluxe home screen you can also enable the Secure VPN to browse the Internet anonymously and securely, enable i cloud backup of your data and access the password manager to keep your passwords and credit card data safe. Convenient, right ?!
Avast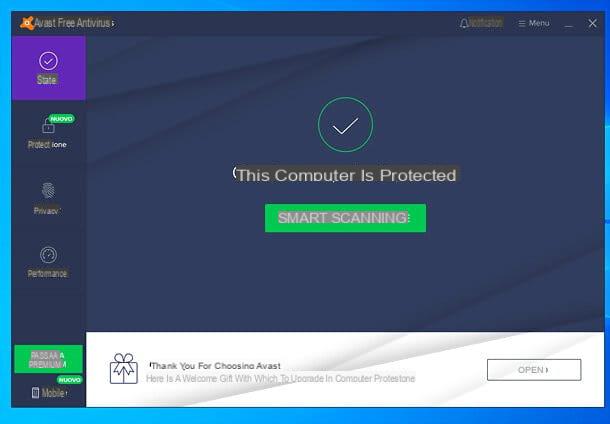 Let's start by reviewing Avast, one of the most famous and reliable protection tools for Windows operating systems currently on the market. It is able to protect the system in a complete way and to control the performance of Windows by removing obsolete software and coping with the most various problems. It even comes with a nice user interface too!
It is available in various versions: one free and two paid. Together with everything mentioned above, the free version is capable of blocking viruses and malware. A step up is the version Premium security of the program, which is paid, and which, in addition to what has already been said, allows you to avoid counterfeit sites for safer purchases, to run suspicious applications safely, to delete files in a safe way, to avoid spying webcam, block ransomware and more.
The variant Ultimatemore comprehensive, it adds the Cleanup utility to free up disk space and the Avast SecureLine VPN. Avast security solutions are also available for macOS and smartphones and tablets.
AVG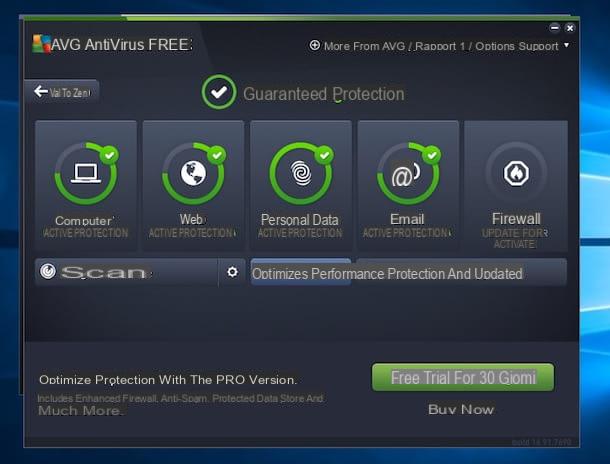 Another noteworthy antivirus that you can use to better protect your PC running Windows 10 is AVG. We are talking about a historical name in terms of software for the protection from cyber threats that can count on an excellent scanning engine as well as on a whole rich set of features. It offers 360 degree operating system protection and has a highly intuitive user interface.
It is available in three variants: one free and two paid. There free version it is capable of blocking viruses, spyware, ransomware and malware as well as unsafe email attachments, malicious downloads and bad links.
The paid solutions, Internet Security e Ultimate, offer, as can be easily understood, a more advanced degree of protection. In fact, they integrate an enhanced firewall, protection for personal folders and a system through which it is possible to avoid running into counterfeit sites for safer payments. Windows 10 aside, these two versions also offer the possibility to take advantage of the appropriate apps for smartphones and Macs.
Avira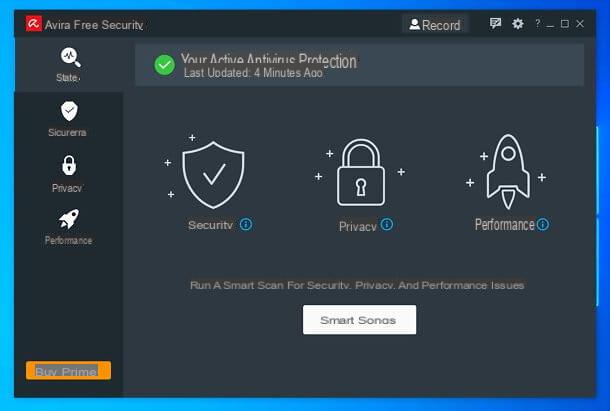 I suggest you also consider using Avira to protect your PC with Windows 10 installed. It is another "big" in the field of antivirus that can protect your computer in a simple but effective way against all the most common computer threats. It is very easy to use and its scanning engine is very reliable.
It is available in several variants: one free and others for a fee. There free version offers a cloud-based basic level of protection, an always-on scanner and a safe browsing system. One step up is the version For, for a fee, which integrates some additional functions, such as the ability to protect yourself from phishing and scam sites.
Another antivirus product from the same company dedicated to computer security that I suggest you try is the Internet Security Suite which not only offers an excellent level of protection from viruses and other threats, but also integrates a firewall, a password manager and a utility to update programs and drivers.
Bitdefender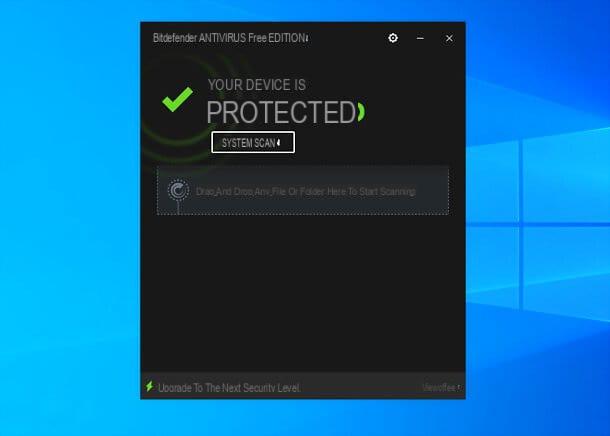 Another excellent candidate for the title of best antivirus for Windows 10 is without a shadow of a doubt Bitdefender. It is available in several variants: one free, basic, and others for a fee.
La free version it is very simple to use, offers real-time control of the system, has an effective and performing scanning engine and is able to work without slowing down the system. It also has a beautiful user interface, essential, elegant and also sufficiently intuitive, through which it is possible to carry out all the operations.
The paid versions of the program that I advise you to consider for your Windows 10 PC are there More and Internet Security. Both solutions offer a complete degree of protection without affecting system resources, a multilevel ransomware protection system, an antipishing and antifrond system and a whole series of special tools capable of guaranteeing a high level of privacy for the user. , both during daily use of the computer and on the Net.
Other antivirus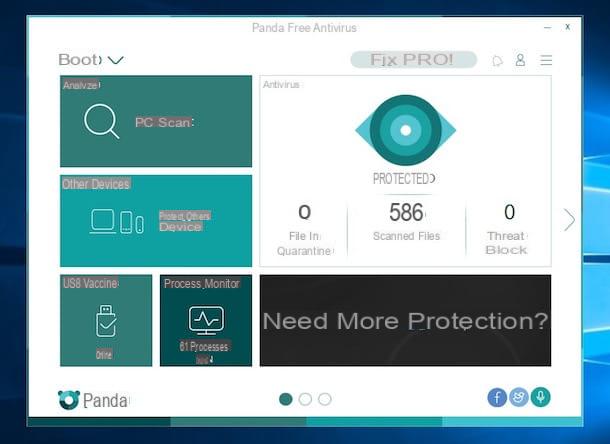 To conclude, I want to tell you about other antivirus solutions for Windows 10 that in my humble opinion are worthy of being mentioned in an article entirely dedicated to the subject. Find them below. Also in this case there are both free and paid ones (with the possibility of downloading the relative trial version). Choose the antivirus that you think will do the most for you and download it now!
Panda (free and paid) - Antivirus famous above all for its high effectiveness rate even if it lets a little too many false positives pass.
ESET (for a fee) - Excellent antivirus available in different solutions capable of keeping you safe from viruses, spyware and ransomware. It also has a simple interface but, it must be said, offers fewer extra features than the competition.
F-Secure (paid) - It is able to offer high level performance and to protect the PC completely. It also has a nice and modern user interface.
McAfee (paid) - Another good antivirus for Windows operating systems capable of protecting against viruses, identity theft and violation of privacy as well as unwanted programs.
Article produced in collaboration with NortonLifeLock.
Best Antivirus Windows 10