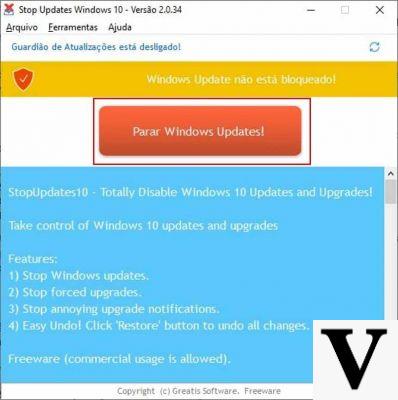 Just a few days left next big update of Windows 10, which Microsoft will release in late May. Like all Winodows updates, this one too, which will bring the operating system version to 1903, will come downloaded in the background and installed silently while we are doing something else. Until the moment when Windows tells us that an update is ready to be installed and asks us to do it, then restart the PC.
Ma not all users are so sure they want to leave Windows the freedom to update itself. Some, mindful of the big problems caused by the 2018 October Update, prefer to leave the honor and the burden of experimenting with the new version to others. Others, aware of the fact that Windows 10 in version 1903 will take up much more disk space, they would rather not install it at all. But how to block the Windows 10 update to version 1903? There are two procedures to do this: the first for Windows 10 Home and the second for Windows 10 Pro, Enterprise and Education.
How to pause Windows 10 Home updates
On Windows 10 Home, updates, large and small, are all managed by the Windows Update service. To configure the way in which our Win 10 Home system updates itself we must open the Windows Update settings by typing in the search box on the Start menu bar "Advanced Windows Update Options" and pressing enter. In the screen that opens we will find several options, including a "master switch" called "Suspend updates". The suspension, however, lasts a maximum of 7 days at the end of which we will have to repeat the procedure and suspend the updates for a further 7 days. The suspension cannot last more than 35 consecutive days and does not affect essential updates, such as those of Windows Defender. Also on Windows 10 Home you can also download Microsoft's "Show or hide updates" tool that allows you to hide an available update before downloading it. If the update is hidden, it will not be installed.
How to pause Windows 10 Pro, Enterprise and Education updates
In non-Home versions of Windows 10, i.e. Pro, Enterprise and Education, you can more finely tune the download and installation of updates. Always accessing the advanced options of Windows Update it is possible to choose a different "channel" for receiving updates: if we choose "Semi-annual channel (targeted)" we can set a number of days (up to 365) for which to postpone updates. With the normal "Semi-Annual Channel" (ie not targeted), however, the updates will be installed automatically as soon as Microsoft has received sufficient positive feedback from its users and will give the "green light" to the installation of the updates on all PCs with this setting selected.
How to suspend Windows 10 updates with the metered connection trick
Finally, for both Windows 10 Home and Pro, Enterprise and Educational, it is also possible to suspend any type of update by making fun of the operating system. The trick is to set your Wi-Fi or Ethernet connection as "pay as you go": Windows, believing it will save us data and costs, will avoid any kind of background download including updates. To do this we must enter the Windows settings and then on "Network and Internet". From here we have to choose "Modify connection properties" and, in this screen, activate the "Consumption connection" toggle.
How to block Windows 10 update