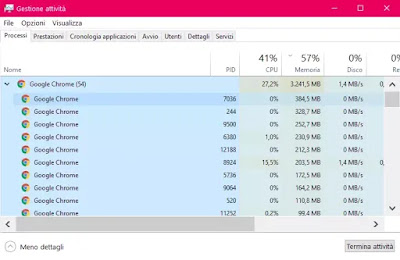 Google Chrome is certainly the most powerful browser today to browse the Internet, fast and full of features as well as extensions that make it an almost universal program.
The only problem with Chrome is that after each update and with the addition of extensions it has become quite big and depending on the computer in use it gives memory problems loading the cards more slowly than usual.
The truth is that Chrome is a beast of a program, with which you can really do everything on the internet, but capable of taking the entire PC memory for itself, leaving nothing to others and blocking all operations.
If Chrome has memory problems
busy and therefore
it seems slower than usual
, there are some
solutions that can be adopted to get the Google browser back fast and light
.
That Chrome takes up a lot of memory is immediately evident by opening the Windows task manager, noting a RAM memory usage of 3 or more GB, with many processes started and running.
The number could be something like 30 or even 50 depending on the sites open and the extensions installed.
From the normal Windows task manager, however, it is not clear what all those Chrome processes are and it is therefore necessary to use a different tool.
Thankfully, Google has equipped its browser with a
Chrome's internal Task Manager
of which we wrote a specific guide some time ago.
To open the Chrome task manager
you have to press the key with three dots at the top right and then go to More tools> Task manager
With the task manager you can find all the active processes of the Google browser, made up of tabs, extensions, plugins, Google account processes listed as subframes and then the GPU process.
The division into Chrome processes allows you to separate the various components so that if one of them crashes, the browser is still open and usable.
The task manager is very useful when Chrome crashes on some broken site, because it is enough to terminate only that one to make it work again.
To recover memory in Chrome activities
the only true one
solution is to remove extensions and applications
which are not used and which take up more memory.
To remove them you have to open the Chrome menu by pressing the key at the top right with three dots and then go to Other tools> Extensions.
In reality, it is not necessary to remove them completely, in fact, just deactivate them to prevent them from consuming memory.
In this way it will be possible to reactivate them quickly if necessary.
One thing that actually reduces the amount of memory Chrome uses is the
total deactivation of the Flash plugin
.
If there is no need to visit flash sites, to completely disable the plugin you need to press the Chrome menu button, go to Settings, then Advanced Settings at the bottom, then click on Content Settings under Privacy and Security.
Then click on Flash and then on the switch next to "ask first" to make it "prevent sites from using Flash".
If there are still problems of slowness and memory with Chrome, it is worth doing a check with a program for
eliminate adware and spyware on the browser
.
ADWCleaner
is the best program to do this work, free, recommended to use once a month even just to do a quick scan.
Google also provides two tools to fix Chrome errors, which you can use even when web browsing seems slow.
The first tool is the
Google Cleaner Software
, which fixes problems automatically by removing any malicious software.
The second is the
Chrome reset button
, which resets the settings and returns the browser to its initial state.
A clever way to solve the memory problem with Chrome is the extension
OneTab
, which I have talked about a lot in several articles, which deactivates open tabs to recover memory.
It is therefore a button to press when there are many open tabs, which ends them all instantly, recovering all the memory occupied by Chrome.
However, the tabs are not closed and can be selectively reloaded when you want to see them.
This extension is always to be installed on PCs with 4 GB of RAM or less, so that you can browse with Chrome without suffering from slowdowns.
Obviously a different solution is to switch browsers on your computer.
We can therefore choose to use, for example, Microsoft Edge in Windows 10, fast and full of features or even the good old Firefox, always efficient and with more privacy protections.
The list of the best browsers is in another article.
ALSO READ:
How to speed up Google Chrome if slow or heavy