Social networks have always copied each other to stay in the race. Snapchat is revolutionizing content sharing with the story? Facebook and Instagram are taking up the idea in their own way. Tik Tok arrives and breaks all popularity records? Snapchat takes up the concept by launching Sounds, a feature that allows you to add songs from a huge catalog to your Snaps.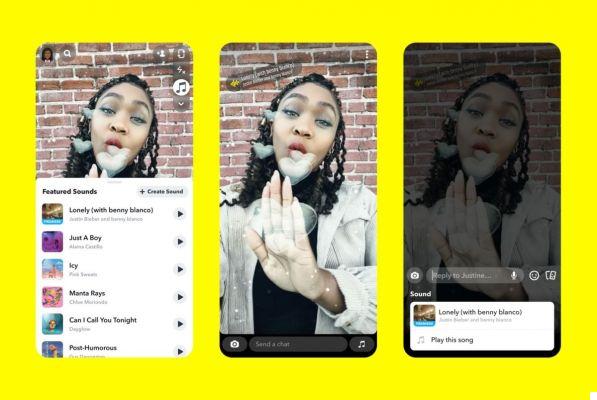 New Zealand and Australia were the first to test it, the rest of the world (at least iOS users) can finally enjoy it. Snapchat has finally launched Sounds, its new feature to compete with Tik Tok which allows you to add music to Snaps. Until then, users could only share songs on Spotify. They can now customize their content by adding one of the millions of titles present in the application's catalog, obtained through the partnerships it has formed with Warner Group Music, Universal Music, Merlin and many others.
Whether the Snap is posted in a story or sent directly to a friend, users will be able to find the name of the artist, the song and the album cover. Added to this is the ability to play the entire song on Spotify, Apple Music or Soundcloud. Snapchat, however, clarified that this last option was not available for the entire catalog.
The firm may have found an effective way to respond to its Chinese rival, who for the time being only allows you to listen to an extract of the title used. "Music makes video creation and communication more expressive. It's a more personal way to share music with your closest friends," she added before announcing the possibility of creating your own sounds some time from now.
Can Snapchat really compete with Tik Tok?
If a few months ago, Instagram copied Snapchat by integrating the self-destructing messages, it seems that the tide has changed course. Popularized by Tik Tok and taken over by Reels, the possibility of adding music to short videos is the big trend of the moment.
Although it is used by 90% of 13-24 year olds (more than Facebook, Messenger and Instagram combined), the Snapchat application could not ignore the flamboyant arrival of the Chinese application on the market. With YouTube recently formalizing Shorts specifically to compete with Tik Tok, the little yellow ghost was lagging behind.
To ensure its success, Snapchat has called on Justin Bieber and Benny Blanco to offer the exclusivity of their new title "Lonely" to its users. The company has not yet given a deployment date on Android.