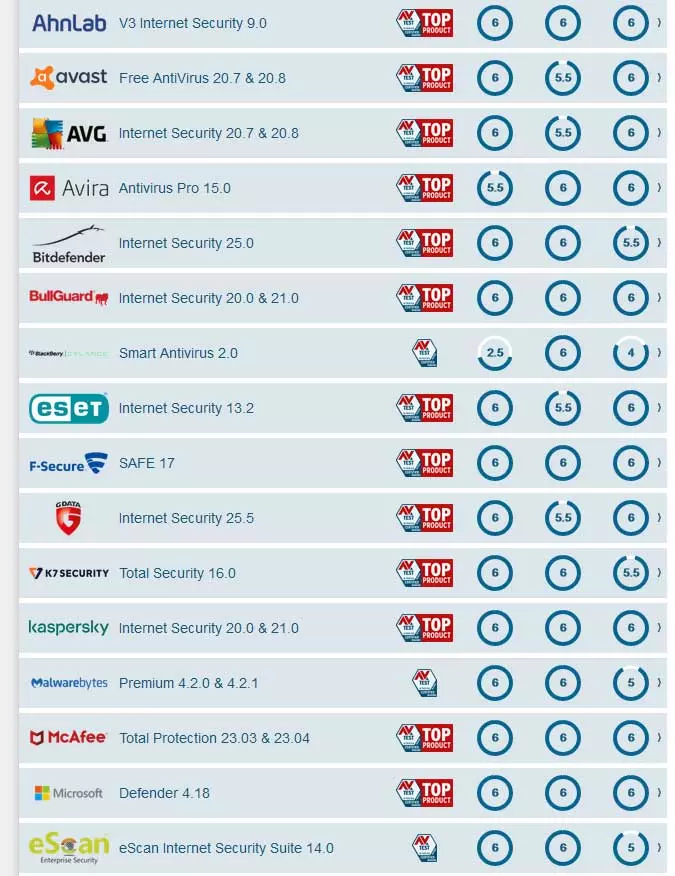 Whenever you log in to Internet, perhaps from a public network in a coffee shop or a station, open an email with a suspicious attachment or download an app from a website, you are taking a risk. For online navigation in complete safety with your computer Windows 10, you must have a antivirus that protects your data.
Among the tools necessary to ensure online safety and surf, lowering the risk of running into a virus, an malware, an ransomware or attempts to Phishing, you have to rely on adequate antivirus programs. Not everyone knows that Windows 10 has its own antivirus, Microsoft Defender Antivirus, which already keeps you safe in normal home operations with your computer. There are several antiviruses that you can use in the free version and that protect you properly, but to have complete protection it is often necessary to pay and here we propose some of the best antivirus 2020 to Windows 10.
Antivirus, the characteristics it must have
There are some characteristics that must be common to every good antivirus in order to adequately protect you and meet your needs. The first is certainly the effectiveness, that is the degree of protection it offers in real time against virus, malware e ransomware. In this characteristic, the occupation of system resources must also be considered: an antivirus software must not weigh down the PC, but carry out its work without slowing it down.
And if you are willing to pay for complete protection, before buying an antivirus you can check for any discounts or offers on the manufacturer website, which also vary depending on how many PCs and devices to be protected are included in the subscription package. . A separate chapter is the privacy: a good antivirus must be able to monitor what happens to your PC and protect your data, with the help of a password manager and cloud backup.
Microsoft Defender Antivirus
Windows 10 offers a completely free tool for protecting your computer from viruses. Microsoft Defender Antivirus, the evolution of Windows Defender, protects your PC from viruses, malware and ransomware in real time, blocks new threats when you download and potentially malicious applications. antivirus di Microsoft it is installed by default on Windows 10 devices and is disabled when you install a third-party antivirus. If the antivirus is disabled, Microsoft Defender is back in action, without the need for reinstallation and protects you.
Bitdefender Antivirus Free Edition
Another free program is Bitdefender Antivirus Free Edition, which offers powerful protection for your Windows 10 computer yet lightweight at the same time. Just download and run it to take advantage of your computer's online protection from major web threats, despite its minimalist approach. There free version it also offers automatic upgrades, for constant protection from new viruses. To access the additional features, which include Advanced Threat Defense, multi-layered ransomware protection, anti tracker, microphone and webcam control, anti-phishing, privacy firewall and parental control you have to pay.
McAfee Total Protection
L'antivirus McAfee Total Protection only offers a free 30-day trial version, then your subscription will activate. This program also offers Total Protection features, from real-time online protection as you browse from viruses, malware and ransomware, anti-phishing features, password manager protection of your credentials, firewall and identity protection, as well as encrypted storage of your your data
Avira Free Security
A free version of Avira Free Antivirus Security is available for Windows 10, which offers the ability to scan your computer for viruses, malware and other threats, firewall protection, secure VPN connection, and performance optimization to keep your PC down. In the paid versions, on the other hand, important features are added regarding real-time protection from threats, password manager, blocking annoying ads and privacy protection.
Norton 360 - All-in-One Security
Norton 360 - All-in-One Security is an antivirus that protects both your devices and your online privacy in a single solution, but its services are paid only. Antivirus keeps you safe from viruses, malware, ransomware and phishing. In addition, it is equipped with a password manager to help you manage your credentials, a cloud backup system for your most important data. Norton 360 also offers a VPN service, to securely access the web when you are connected by Wi-Fi, especially when traveling, a Firewall system that monitors the PC and blocks unauthorized traffic and a SafeCam system that alerts you if anyone tries to access the webcam without permission. For the little ones, it also offers asparental control service and above all a "satisfaction or refund" clause if it fails to keep your PC safe from a virus.
The best antivirus of 2020 for Windows 10