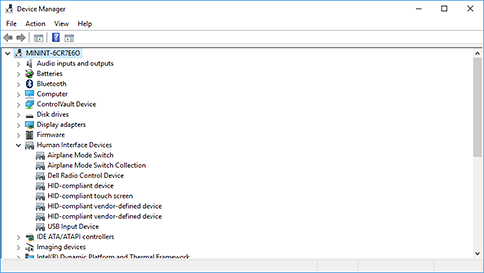 Own a laptop with touch screen in Windows 10? This system allows you to use the computer by touching the screen, thus converting it into a tablet. Now i computer 2 in 1 are widespread, but often the active touchscreen can get annoying, especially when you want to use the device in a traditional way, with mouse and keyboard.
Lo touch screen it becomes a problem when, for example, you inadvertently touch the screen. This happens if, for example, you move your computer from one place to another, or if you are working with a colleague who rests his finger by activating the touchscreen. These cases are far from rare, but fortunately there is a safe and effective procedure for disable the touchscreen in Windows 10 in a few steps. The function can also be disabled temporarily, but it is certainly very useful. Let's see how to do it.
Disable the touchscreen in Windows 10
Do you want disable the touch of your laptop? There is a very quick procedure to perform on yours Windows 10. To get started, go to Device Manager (Device Manager for those who have set Windows in English). You can do this from the Control Panel or by searching within the system. In the latter case just go to the Start button and start typing what you need.
Device Manager keeps track of all the devices available on your computer. From here you can then change their settings, including disabling.
Once in Device Manager, click on Human Interface Device (HID). Several items will appear, including Touch Screen Compatibile HID which should be last in the list. Double clicking on the item will open the management window: click on the Driver tab and in the new screen click on Disable. At this point confirm your choice when the question "If you disable the device, it will not work. Disable it?" To proceed and conclude the operation just click on Yes. From this moment, the touchscreen will not work. To do the test, just touch it and nothing will happen. To reactivate it, just follow the same procedure but, once on the HID Compatible Touch Screen, by clicking the right mouse button just choose Enable.
Activation this time will take place immediately, without a confirmation window. Furthermore, in both cases it is not necessary to restart the computer.
How to disable the touchscreen in Windows 10