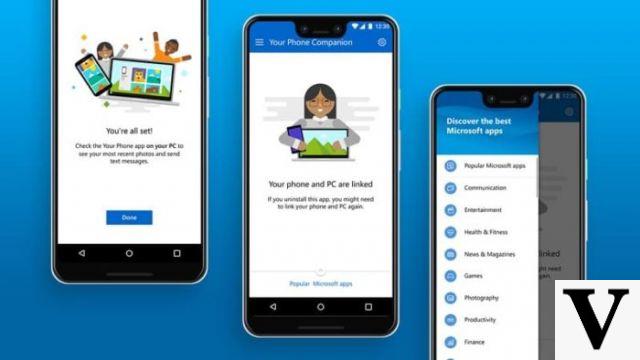 Before long it will be possible to use a PC with Windows 10 to make phone calls via your smartphone. Microsoft, in fact, is working together with Samsung to develop a new specific app for the Galaxy Note 10. In the future, the same app could also arrive on all other Android smartphones.
On the other hand, already today the (beta) version v1.19082.1006.0 of the app Your Windows 10 Phone allows you to make calls on some smartphones, such as the Realme 3 Pro, according to what some users report on Twitter. According to Microsoft, it is not long before the functionality is extended to all Android phones: at the latest by the end of 2019 the stable version of "Your Phone" should arrive, which will allow you to do it on all smartphones. Microsoft is facing a major challenge: it will not be easy to reconcile all 800 million computers with Windows 10 with all 2,5 billion Android smartphones around the world.
Prima and Samsung
Precisely because of these difficulties in making the infinite number of hardware combinations possible between Windows PC and Android smartphone interact correctly, Microsoft has wisely decided to work side by side with Samsung, which is the world's first smartphone manufacturer of the green robot. Already in August, a specific partnership was announced to integrate the Your Phone app into the Korean giant's mobile phones, starting precisely from Note 10. At the moment Your Phone app Microsoft allows you to access Android smartphones of almost all manufacturers, to see photos and videos stored in the internal memory, to read messages and notifications via a PC with Windows operating system 10. In practice, said in one word, with Your Phone you can "mirror" your smartphone on the PC. Calls, however, are still missing even though Microsoft had announced the release of this feature for the first half of this' year.
How to make calls on Windows 10 with Android smartphones
In reality, however, those who need or even just want to use a PC Windows to make phone calls through an Android smartphone connected to the computer can already do it. But using third party apps, not developed by Microsoft, like AirDroid. There are also numerous other apps that replicate almost all the features of Your Phone, except for calls. Among these are AirMove, PushBullet, Xender, Vysor, Join, Apower Manager, MoboPlay and many others.
How to make calls with your smartphone from your Windows PC