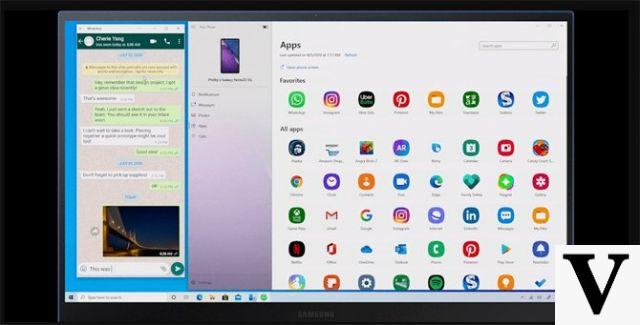 So far, smartphones and computers are seen as opposing devices: the smartphone is used for daily entertainment, the PC to work and to play slightly more complex video games. In the short term, however, the two devices will be able to become complementary thanks to Windows 10. During the presentation of the Galaxy Note 20, which took place on August 5, 2020, an innovative smartphone functionality was shown: thanks to the Il Tuo Telefono app it is possible to use the applications on the smartphone directly on the PC.
A real evolution of the Your Phone app, launched more than a year ago by Microsoft for Windows 10 and which aims to use some features of the smartphone on the PC. It started with notifications, then added the option to manage the music playing on your mobile from your PC and now we have arrived at the most awaited function: launching smartphone apps on the computer screen. For the moment the tool has been released only for some users enrolled in Windows Insider, the version of Windows 10 where the tests are carried out. And the release will happen slowly, so you can better test the functionality.
How to use smartphone apps on Windows 10 PC
Samsung and Microsoft have sported the new feature of the Your Phone app which allows you to use smartphone apps on your PC. But how do you use the new function? Quite simply it is a kind of mobile phone screen transmission on that of computer. By entering the app Your phone on your computer, there will be a section dedicated specifically to the instrument and by accessing you will be able to see all the applications installed on your mobile: with a simple click you can start them.
But not only. Users will also be able to add them to the Start menu to always have them at hand. There are limitations to be respected to use the function: at most one app at a time due to the little smartphone power. This limit, however, is only temporary: starting next year it will be possible to work in multitasking.
What are the compatible models
Microsoft has announced that in addition to the Galaxy Note 20, there are a total of 33 smartphones that support this new feature. The final list, however, is not yet available, but will arrive shortly.
When the new Windows 10 feature arrives
There will be a long way to go and there will be many obstacles to overcome. This is not a simple function and the hitches could be around the corner, which is why Microsoft has decided to release it only for a limited number of users Windows Insider, so that it can be tested calmly and without haste. The official release will probably only take place next year.
Windows 10, you can now use smartphone apps on your PC